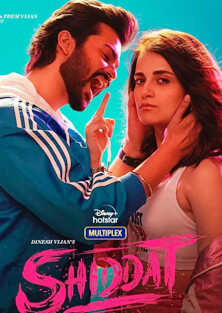 Quick take: It's a love story made for die-hard romantics
Young IFS officer Gautam (Mohit Raina) makes an impassioned speech at his wedding reception about how he met his wife Ira (Diana Penty). "If I hadn't met you in London, it'd have been in Paris or Amsterdam," he says, "Kyunki tum meri kismat ho." It's cheesy as hell and he knows it. But it's the sort of speech a groom is supposed to give. The impressionable collegian Jaggi (Sunny Kaushal), who has gatecrashed the wedding, didn't get the memo, though. He takes the speech to heart and sets his life by it. Three years later, he meets NRI girl Kartika (Radhika Madan) in a sports camp. He's a hockey player and she's a swimmer trying for a place in the Indian team. Like the typical Hindi film hero, he starts stalking her at first. Sparks do fly and he starts helping her become a better swimmer, turning into a life coach of sorts. They end up sleeping together. But there's a catch. She's already engaged and getting married in London in three months. He pleads with her to call off the wedding. She, being more practical, says it's just hormones talking. Separation will cool their ardour and if he does land up in London after three months, she might call it off. He takes her to her word and like Raj from DDLJ, sets off to woo his Simran. But that's where the similarity ends. He doesn't have the resources to go to London by legal means and hence takes the illegal immigrant route. He makes it to France but is caught by the authorities. His Indian case officer is none other than Gautam, whose own marriage with Ira is on the rocks. Gautam advises him to forget Kartika and start a new life back in India. Nevertheless, Jaggi's cheerfulness and positivity rubs off on Gautam and convinces him to give his relationship another chance. But fate has something else in store for Jaggi…
Love makes a fool of us all, it's said. One man's foolishness is another man's passion. And that passion makes him forget everything else but the object of his desire. That in effect, is the story of Shiddat in a nutshell. It's a lopsided story, holding a mirror only to Jaggi's pain and suffering. He embarks on an odyssey under the assumption that Kartika loves him with as much depth as he does. The film alludes to classical love stories like Sohni-Mahiwal but there two people were very much in love. Here, Kartika is shown to be extremely practical who hasn't even kept in touch with him all this while. Who thinks she's being pranked when he calls her from Paris. For her, he's nothing but a nice memory to hold onto on cold nights. She isn't burning with the same flame as him and that's the biggest problem with the film. Like the typical '90s romance, she's thrown into her room by her father and asked to marry the guy he has chosen for her. That's an even bigger problem, for today's time. Haven't our sensibilities changed one-bit over the years. Haven't girls become more liberal, more independent over the intervening period. Where's her rebellion? Why isn't she swimming the English Channel, like he does, to be with him? Being a swimming champ, she might have succeeded. Why is she driving herself to seek a place in India's swimming team in the first place when all she wants is to settle down? Clearly the writers weren't in sync with the times. In order to keep one man's quest alive, Mohit Raina and Diana Penty's love story, which started it all, gets sidelined. He's a career diplomat and she's a bleeding heart liberal. But we aren't shown enough of their conflict, which would have made an interesting thread.
The uneven writing is buoyed by some power-packed performances. Casting Sunny Kaushal and Radhika Madan together is clever indeed. It's a fresh pairing which shares crackling chemistry for sure. Both Sunny and Radhika are natural actors and you can see they're enjoying squaring off each other. As long as they're together on screen, the movie chugs along nicely. We want to know more of them, and would like to see how they explore their relationship further. But the DDLJ obsessed director had other ideas and cuts that strand short. Kudos to both Sunny and Radhika for giving their 100 per cent to their characters and making the movie come alive through their performances. The bromance between Mohit Raina and Sunny is on point too. He comes across as this jaded, cynical older brother who has given up on love and is amused by Sunny's antics. Raina gives the film a much needed gravitas. His chemistry with Diana Penty is alright too. She's hardly seen in the movie and we wish this talented actress had more to do in it.
As said earlier, Shiddat is a movie strictly suited for die-hard romantics. Just to make it more realistic, director Kunal Deshmukh has also touched upon the problem of illegal immigration in it but it's for cosmetic effect indeed. He has managed to derive credible performances from the main cast, however, that's the big plus indeed. If only he had worked harder on the script as well...